JAKARTA, 26 April 2022 – PT Champ Resto Indonesia Tbk (ENAK), an issuer operating in the food & beverage industry (casual dining segment) with six restaurant brands including Gokana, Raa Cha and Monsieur Spoon, managed to reach a revenue of Rp 268.2 billion in the first quarter of 2022. This is an increase of 65% compared to the first quarter of 2021, which was Rp. 162.5 billion. Gokana and Raa Cha are still the biggest contributors to the company, with a contribution of 41 % and 40% out of total revenue, respectively.
Revenue per quarter for the period 2020 – 2022 (billion)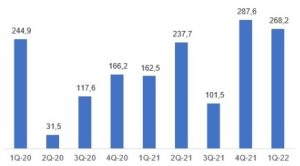 Taking into account the quarterly trend over the last two years, the Company also achieved the highest first-quarter revenue in the last two years, even when compared to the first quarter of 2020 revenue, which is considered the last quarter before the COVID-19 pandemic.
"As we predicted, the revenue in the first quarter of 2022 grew very significantly compared to the first quarter of 2021, although there were several PPKM policies implemented by the government. This is due to, among other things, the high vaccination rate, as well as the readiness of the government and the company in dealing with the PPKM policy implemented in response to Covid-19," said the President Director of Champ Resto Indonesia, Ali Gunawan Budiman, in an official statement, Tuesday (26/04/2022). "But again, even though we recorded significant revenue growth, we feel this is not optimum because the Omicron case still overshadows the Company's performance in the first quarter," he added.
The company also recorded improvements in financial ratios, especially solvency ratios, with the listing done on February 8, 2022. The company's debt-to-equity ratio decreased from 3.2x as of 31 December 2021 to 0.8x as of 31 March 2022, indicating an improvement in the balance sheet.
"We are optimistic that we will achieve the target set this year, considering that the number of outlet openings are in line with the target, as well as improving public interest and purchasing power – these are important for the company's future revenue growth," said the Chief Operating Officer of Champ Resto Indonesia, Hade Mboi.